Arlington Drive Youth Campus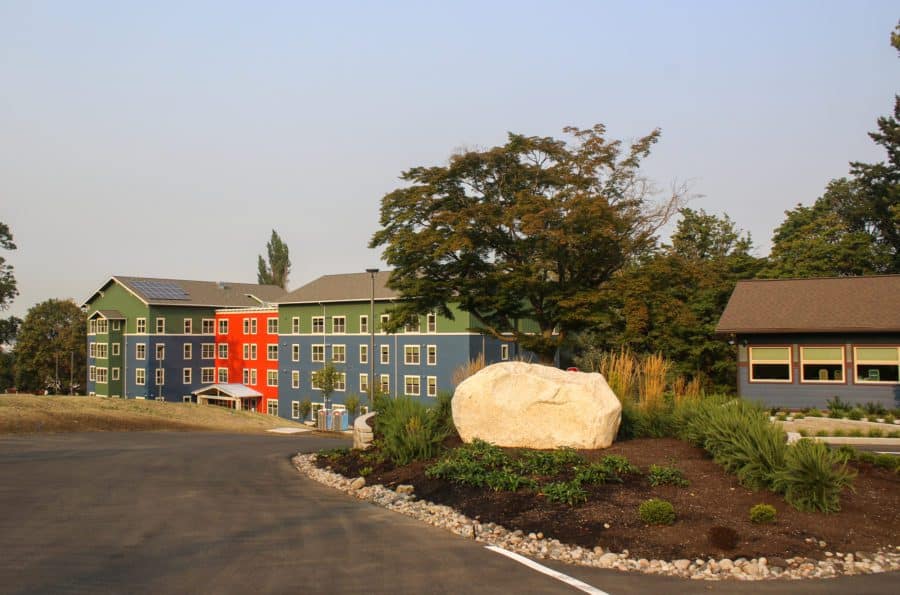 A Safe and Supportive Home
Tacoma Housing Authority designed the Arlington Apartments for young adults, 18 to 24 years old, who are experiencing homelessness, transitioning from foster care, or on the threshold of homelessness. The campus is close to the Eastside Community Center, public transportation, a health clinic, and schools.
The Arlington Drive Youth Campus is the largest housing model for youth and young adults in Pierce County and a regional asset serving young people in crisis throughout the Puget Sound area.
Young adults participated in the design of the Arlington Apartments, and as a result, the campus features on-site laundry, a large community room with a demonstration kitchen, small meeting spaces, lots of windows, and secure entry, while the grounds include an outdoor patio and areas for gardening.
History
The Crisis
There are at least 90 homeless unaccompanied youth with families and young adults on any given night in Pierce County. In 2016, at least 1,070 youth and young adults in Pierce County were homeless.
Many of these young people are fleeing abuse at home and judge that the streets are safer. On their own, they face high risks of further abuse, violence, sex trafficking, addiction, and greatly diminished prospects for an education, a livelihood, a family and a reasonable life.
The Goal
THA set out to provide homeless youth and young adults with a second chance at a reasonable adolescence, a second chance at a reasonable adulthood and a second chance at a life without exploitation, impoverishment and fear. The apartments were designed to give residents a place they could call their own, with 1- and 2-bedroom units ranging from 480 to 690 square feet.
Perhaps most importantly, the campus would offer them what they do not get or feel from too many other places – a warm and safe welcome.
The Project
THA owns 3.5 acres called Arlington Drive near its community of New Salishan, in a forested area just above Downtown Tacoma. With partners, THA set out to develop a Youth Campus on that property with the following features:
12-bed Crisis Residential Center (CRC) for homeless youth without families, age 12 to 17 years.
58 rental apartments for homeless young adults, ages 18 to 24.
Facilities for supportive services.
Social enterprises for job training.
This campus is in walking distance of the following complimentary facilities:
Tanbara Regional Primary Health Care Clinic
Lister Elementary School and First Creek Middle School
East Side Community Center
Bates Technical College Salishan Campus (planned)
Salishan Child Care Center (planned)
The Crisis Residential Center (CRC) is managed by Community Youth Services (CYS), which has been doing this work in Thurston County since its founding in 1970 and opened a 5-bed CRC in a THA single-family home in 2016. CYS is one of the nation's leading practitioners in this work. It uses evidence-based and best practices that show a 95% rate of successfully discharging these youth, after an average 15-day stay, to safe and stable housing. Sometimes CYS returns the youth to family. Sometimes CYS fashions a new family with relatives or other caring adults. Sometimes the youth go to foster care, or to independent living.
The YMCA of Greater Seattle provides case management services, mental health support, substance use disorder counseling, and life skills training.
The Results
The Arlington Apartments were completed in 2020, with the CRC/HOPE Center facility opening in June, and the Young Adult Housing Program (YAHP) young adult apartments began leasing in October. The project was under budget and three months ahead of schedule.
Since opening, the Arlington Drive Youth Campus has:
Housed 71 young adults (ages 18-24) in apartments.
Diverted 114 youth (ages 12-17) from homelessness.
As of June 30, 2022, Arlington Drive Youth Campus had a 91% success rate in discharging youth to stable housing, and the average stay in the HOPE Center is 15 days.
Since the removal of COVID-19 regulations, a concerted effort to support residents with employment resources has led to 38% of all households with current employment, compared to 15-20% the previous year. 85% of all households that move out of the Arlington have moved into secure and stable housing and with employment.
Reference
News
For More Information on Youth Homelessness: